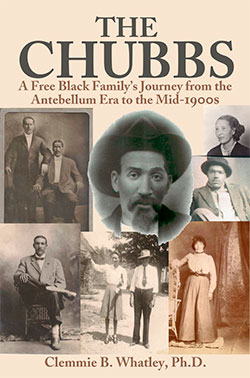 How did I know that a call from my cousin, Henry, in the fall of 2015 would change the trajectory of my life? Henry asked if I could work with ESPN on a video they planned to film on Nick, his son. At that time Nick was outstanding football player at the University of Georgia. In steps Kristen, the producer of the film, with so many questions – many I could not answer. Over the years, my mother, who was 94 at that time, served the community as the Chubb family resource and worked conscientiously to keep the story of the Chubb family alive, helped to answer some of the questions. I also asked Kristen to contact Kenneth, my cousin, who wrote the book, The Chubbs of Chubbtown. In the meantime I began to gather artifacts of the family and Chubb Chapel United Methodist Church to share with the ESPN crew. I knew my mother had my grandparents' trunk in her closet but I had never ventured in the trunk. I thought with the many groups wanting to tell the story of the Chubb and Chubbtown, I need to make sure the representation I demonstrated was true and accurate. So into the trunk I ventured to gain more information -- finding many property deeds, wills, voting and farm records, and other information. I was not prepared for what I found at the bottom of the trunk, an 1857 bill of sale for the exchange of a slave lady and her son between two men. Was this the daughter my family discussed who was kidnapped into slavery but the family got her back? This document started me on a deep discovery into the Chubb family. The book, The Chubbs: A Free Black Family's Journey from the Antebellum Era to the Mid-1900s, is the results of that research.
The book provides an examination of The Chubb family through historical records and family dialogue beginning in the mid-1700s to the mid-1900s. It is a compilation of five years of research.
Proceeds from the sale of the book will be donated for the upkeep of Chubb Chapel United Methodist Church and the Chubb Family Cemetery and the establishment of the Chubbtown Visitors Center in Chubbtown.
Price: $24.95 + $4.00 shipping
Books will be shipped via United States Postal Service.